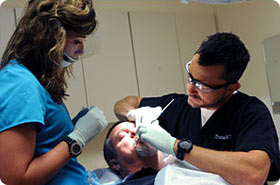 After the skin cancer has been completely removed, and the final defect size is known, a decision is made on the best method for treating the wound created by the surgery. These methods include letting the wound heal by itself, closing the wound side to side with stitches, closing the wound with a flap or a skin graft, or any combination of these methods. It is very common that the number of sutures required is underestimated by the patient. Many times we must extend the suture line (and therefore the resulting scar) in order to obtain the best long-term cosmetic result.
In some locations, or if the tumor extends beyond what was initially expected, we may utilize other surgical specialists for their unique area of reconstruction expertise. Many times this can not be predicted pre-operatively and arrangements will have to be made after the surgery. Fortunately, we have developed a good relationship with several talented reconstructive surgeons. If we utilize another specialist the reconstruction may take place on the same day or on a subsequent day. There is no harm in delaying the reconstruction for several days. If the reconstruction is to be extensive, that portion of the operation may require hospitalization. This is the exception rather than the rule.
We require limited physical activity (maintain a normal heart rate) for 48 hours after surgery to decrease the chance of bleeding complications. Depending on their type of work, some patients may not feel comfortable returning to work for up to one week after surgery. Others, with smaller, less complicated defects, have returned to work the very next day. We usually recommend that patients make arrangements to be away from work for one to three days. This will be dependent on the size and complexity of the surgery and reconstruction.
---
We look forward to making sure your experience with Mohs Micrographic surgery is a positive one and appreciate the opportunity to serve you. Please do not hesitate to call with any questions or concerns.
Questions concerning your upcoming surgery can be addressed by our Mohs Support Specialist:
Johnson City
423-928-8088
Bristol
423-764-7131 ext. 5094