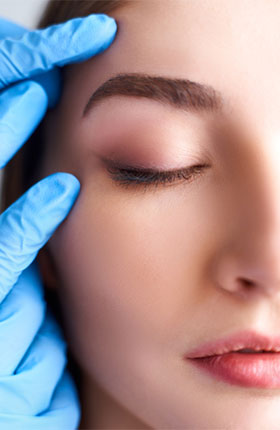 Our Cosmetic Centers are supported by our ABD board certified dermatologists and fellowship-trained Mohs surgeons. The dermatologists provide medical direction for the Cosmetic Centers.
Our highly trained staff can individualize skin care regimens for clients and patients based on skin type or particular concerns.
What truly separates us from med-spas is our ability to compliment the treatment plans developed by our dermatologists for conditions such as rosacea, sun damage, eczema, and acne.
Chemical Peels
Chemical peels improve the look and feel of skin that is dull in texture and color. They are used to treat fine lines under the eyes and around the mouth and wrinkles caused by sun damage, aging, and hereditary factors. Chemical peels also treat mild scarring, certain types of acne, and may reduce the appearance of age spots and freckles.
Dermatology Associates Cosmetic Centers offer a wide range of chemical peels to target specific concerns. We offer Glytone Enerpeels®, SkinMedica Illuminize® peels, Skinceuticals Red Carpet® peels, and Obagi Blue Radiance® peels.
Customized Facials
Your skin serves as a barrier to your body, blocking harmful UV rays, toxins and bacteria. Being constantly bombarded with these can lead to issues like wrinkles, lines and even acne. Facials are not just about feeling good, they are a chance to encourage change in the skin.
We offer customized facials designed for acne-prone, dry, sensitive, normal, or oily skin. All our facials include deep cleansing, toning, exfoliation, hand/arm/facial massage, calming mask, eye and lip treatments. We use Skinceuticals® products in our facials which are designed to prevent, protect, and correct.
Facial rejuvenation treatments are available at all three Cosmetic Centers.
Dermaplaning
Dermaplaning is blade-based exfoliation of the skin, improving skin tone and allowing better penetration of anti-aging products. Dermaplaning also removes fine facial hair that may impede smooth application of makeup and other products.
Microdermabrasion
Also known as the "Lunchtime Peel," this procedure is a highly effective treatment for acne, fine lines, wrinkles, and sun damage. We use a medical-crystal based resurfacing procedure which exfoliates the skin, lessening the appearance of fine wrinkles and allowing better penetration of anti-aging products.
Lash and Brow Tinting
Long lasting color for lashes and brows to restore visibility to aging lashes and brows or to match hair color.
Skin Care Consultation
Our skin care specialists and licensed aestheticians will assist you with choosing the correct morning and evening skin care regimen for your skin type and concerns. Consultations are complimentary at all of our Cosmetic Centers.
Waxing
Spa-quality removal of unwanted hair from the face or body.