Be well rested and eat a good meal prior to your appointment. Take your usual medications, unless directed otherwise.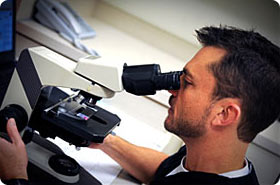 It is our policy NOT TO DISCONTINUE any blood thinning medicines such as Coumadin© (warfarin), Plavix© (clopidogrel), Ticlid© (ticlopidine), or aspirin if they WERE prescribed by another physician.
However, use of aspirin (Anacin©, Bufferin©, etc.) or ibuprofen (Motrin©, Advil©, etc.) products should be stopped ten days prior to your surgery if they WERE NOT prescribed or recommended by another physician. These medications may thin your blood and cause more bleeding. You may substitute acetaminophen (Tylenol©) if required.
Do not drink any alcoholic beverages for 48 hours before surgery.
Herbal medicines to be discontinued prior to surgery include: ginkgo biloba, ginger, garlic, ginseng, and feverfew.
During your pre-operative screening, we will determine if you require pre-operative antibiotics (similar to those commonly taken before dental procedures). This is usually needed in those patients with recent joint replacement, history of heart valve disease, or compromised immune systems.
Shampoo your hair before surgery, as your wound and initial dressing may have to remain dry for 48 hours thereafter. Please refrain from using makeup as this could contaminate the surgical field.
Because the length of the procedure varies depending on the size and location of the skin cancer and the type of reconstruction to be done, you should plan on spending most of the day in our office.
Because the procedure can be lengthy, and the size of the surgery and reconstruction is unpredictable, we recommend that you bring a driver with you. Please keep in mind that the initial bandage is rather bulky and may interfere with your vision or make wearing glasses a challenge.
---
We look forward to making sure your experience with Mohs Micrographic surgery is a positive one and appreciate the opportunity to serve you. Please do not hesitate to call with any questions or concerns.
Questions concerning your upcoming surgery can be addressed by our Mohs Support Specialist:
Johnson City
423-928-8088
Bristol
423-764-7131 ext. 5094