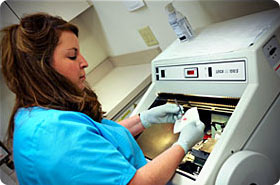 Appointments for surgery are scheduled throughout the morning and early afternoon. It is a good idea to wear loose fitting clothing and avoid pullover clothing. We recommend bringing a sweater or a warm cover up as we must keep our office cool to accommodate the lab equipment.
We will obtain your written consent for the procedure, photographs may be taken, and your blood pressure will be recorded. We will address any last minute questions prior to beginning the procedure.
The area surrounding the skin cancer will be cleansed with an anti-bacterial soap. The anesthetic will then be injected into the area of skin containing the cancer. This injection will probably be similar to the one you received for your biopsy. We will be as gentle as we can when administering this.
Once the initial injection is over, the remainder of you day will be relatively pain free as any subsequent anesthetic will be added while the area remains numb. It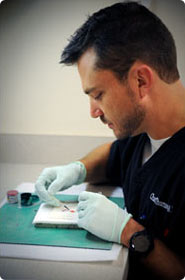 usually takes less then 10-15 minutes to anesthetize the involved area and complete the first step of the surgery. After this first step, your wound will be bandaged and you will be escorted to join your family/friends in our private waiting room while we begin processing the tissue in our office laboratory.
Processing and reading the pathology slides takes about an hour. If the microscopic examination of the removed tissue reveals the presence of additional tumor, we will go back and remove more tissue only in the involved area. The process will repeat in a stepwise fashion until we achieve negative margins at which point we will proceed with the reconstruction.
Although time consuming, the Mohs technique allows us to precisely map out where the roots of the cancer remain. This allows us to remove only skin that has cancer in it therefore leaving as much normal tissue behind. Most skin cancers are removed with an average of two stages.
Infrequently, patients are quite anxious about their treatment for which we can give anxiolytic medicines (such as Valium©). If you think you might require such medicines, you must have someone to drive you home.
---
We look forward to making sure your experience with Mohs Micrographic surgery is a positive one and appreciate the opportunity to serve you. Please do not hesitate to call with any questions or concerns.
Questions concerning your upcoming surgery can be addressed by our Mohs Support Specialist:
Johnson City
423-928-8088
Bristol
423-764-7131 ext. 5094