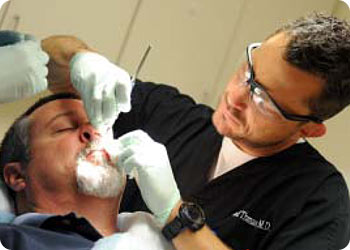 Mohs surgery, also called Mohs micrographic surgery, is a specialized technique for removing skin cancer.
Named for its originator, Dr. Frederic Mohs, Mohs surgery is the treatment of choice for many skin cancers of the head and neck, or those cancers that have recurred after a previous treatment.
Mohs surgery offers the following advantages:
Highest cure rate - Because all surgical margins are examined microscopically in the office, this procedure has the highest cure rate of all skin cancer treatments.
Best cosmetic result - Because there is no need to take a margin of healthy skin in Mohs surgery, the size of the wound left after tumor removal is minimized. Keeping the defect small optimizes the surgical repair, and produces a superior cosmetic result.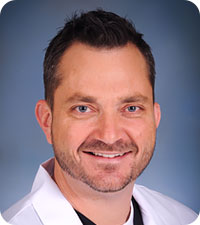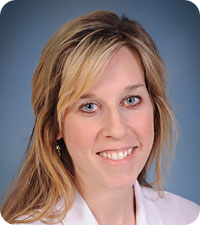 ---
Why You Should Choose a Fellowship-Trained Mohs Surgeon
Mohs College (ACMS) vs Mohs Society (ASMS) - What's the difference?
Unfortunately, any physician may choose to perform Mohs surgery, even without any specialized training. Many Mohs surgeons advertise they are "certified" or credentialed with governing organizations. Essentially this takes place by two routes: The American College of Mohs Surgery (ACMS) or the American Society of Mohs Surgery (ASMS).
The names are similar but the differences are great.
Mohs College (ACMS)

Mohs Society (ASMS)

Completed residency in Dermatology
Completed residency in Dermatology
1-2 years of fellowship training (after dermatology residency) specifically in Mohs technique, cutaneous oncology, histopathology, and reconstruction. This includes operative and non-operative education, as well as exposure to long-term results, recurrences, and complications.
Must attend an intense instructional course once every three years.
Must apply and be accepted to a highly competitive accredited ACMS training program.
$325 - Minimum of 75 cases personal experience
Training programs must pass a rigorous application and accreditation process before being allowed to train a fellow. This review process is repeated every 1 to 5 years.
Minimum of 500 proctored cases under the direct supervision of an attending Mohs surgeon who has been granted supervision rights by the American College of Mohs Surgery.

Submit 2 complete cases for review
Submit 2 letters of character reference
Pass a written and practical exam at (70% pass)

Perform a wide breadth of reconstructions, ranging from simple closures to complicated skin flap and grafts.
All three Dermatology Associates' Mohs surgeons are ACMS Members and are ABD board certified dermatologists.
---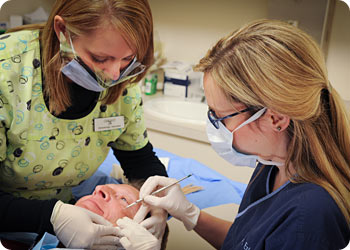 You want your skin cancer treatment to be performed with the highest standards of quality and competency.
While any board certified dermatologist may perform Mohs surgery, only members of the American College of Mohs Surgery (ACMS) have undergone rigorous fellowship training consisting of over 500 cases of varying complexity and extensive training in skin cancer pathology and facial reconstruction.
Although not always the case with physicians who perform Mohs surgery, all three Mohs surgeons with Dermatology Associates are ACMS Fellowship trained. ACMS is the only organization that requires its members to be accepted and to successfully complete a fellowship that requires at least one full year of training and hands-on experience following completion of a dermatology residency.
About Mohs surgery
Mohs surgery is an outpatient procedure that is performed under local anesthesia; therefore the risks associated with prolonged general anesthesia are avoided. Before the surgery begins, a small needle is used to place the numbing medicine (lidocaine) in the area surrounding the skin cancer. This may cause some discomfort, however, the remainder of the procedure is relatively pain free.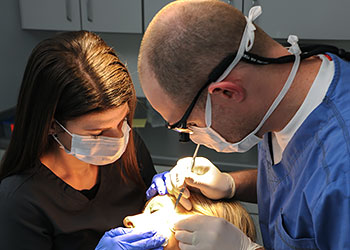 The surgeon first removes the obvious skin cancer that can be seen with the unaided eye. Next, a very thin saucer-shaped layer of normal appearing skin is removed taking special care to map the tissue so that the surgeon is able to determine the corresponding margins on the patient. The tissue is then processed by the laboratory located in our office – a process that takes about an hour. Because there is a direct transfer of the tissue from the surgeon to the lab, the tissue can be prepared in a special manner that enables the doctor to examine the entire bottom surface and outside edges of the tissue.
This differs from the frozen sections prepared in a hospital setting which, in fact, represent only a small portion of the true tumor margins. After processing, the surgeon uses a microscope to trace the roots of the skin cancer to see if the entire tumor has been removed. If the margins are clear, and the tumor has been completely removed, then the surgeon will repair the wound that was created by tumor removal. The repair usually involves sutures (stitches).
If the margins are not clear, meaning that some of the tumor was left behind, then the surgeon will go back and remove the edges only in the area where the roots were left behind. This tissue will likewise be processed and examined with a microscope. If tumor removal is complete, then sutures will be used to repair the defect, if not, then another layer of skin will be taken. This process is repeated as many times as necessary until the entire tumor is removed.
Because the number of stages involved with each case is unpredictable, it is impossible to know how long the surgery will take. For this reason, it is important for patients to plan on spending the entire day with us. Bring a good book and whatever else will help keep you comfortable while you are with us.
---
Learn more about Mohs surgery from:
American College of Mohs Micrographic Surgery and Cutaneous Oncology
Mohs Surgery Patient Education Website
We look forward to making sure your experience with Mohs Micrographic surgery is a positive one and appreciate the opportunity to serve you. Please do not hesitate to call with any questions or concerns.
Questions concerning your upcoming surgery can be addressed by our Mohs Support Specialist:
Johnson City
423-928-8088
Bristol
423-764-7131 ext. 5094
---
Resources
Mohs Pre-Operative Mailing Information
Mohs for Melanoma Pre-operative Mailing Information
Frequently Asked Questions About the Wound Healing Process
Bristol Office Mohs Wound Care Instructions
Vinegar Soaks Recipe/Instructions
---
Mohs Surgery Patient Education Video
The patient education video covers all the basics of skin cancer and details of the Mohs Surgery process.
Mohs Surgery Patient Education Video
---
Please choose from the Mohs topics below to learn more about Mohs Surgery:
About Mohs Micrographic Surgery
Mohs surgery, also called Mohs micrographic surgery, is a specialized technique for removing skin cancer.
---
Be well rested and eat a good meal prior to your appointment. Take your usual medications, unless directed otherwise.
---
Appointments for surgery are scheduled throughout the morning and early afternoon.
---
After the skin cancer has been completely removed, and the final defect size is known, a decision is made on the best method for treating the wound created by the surgery.
---
Rest assured you will be fully instructed on wound care after your surgery. Detailed written instructions will be provided.
---
Although no surgery is without risks, Mohs surgery has a proven track record as a lower risk procedure.
---
American College of Mohs Micrographic Surgery and Cutaneous Oncology
---