What is a Chemical Peel?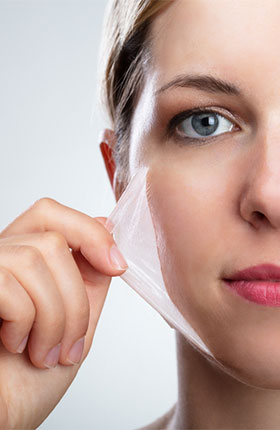 Chemical peels are important tools for skin rejuvenation. Their popularity is related to their versatility and relative simplicity.
Chemical peels are classified as superficial, medium, and deep according to the depth of penetration of the peeling solution. Dermatology Associates offers superficial to medium depth peels in the Cosmetic Centers. Deep chemical peels are performed in general dermatology by a physician.
The results of the procedure depend upon the chemical used and its concentration, method of application, contact time, skin condition, preparation, etc. The depth of the peel determines the patient's inconvenience during and after the procedure, healing time, the rate of the potential side effects, and the results. Different agents are available to achieve different peel depths. Recovery times vary from 1 day to 2 weeks, depending upon the depth of the peel. - courtesy nih.gov
These techniques achieve a softer, smoother and more uniform appearance for the skin.
Dermatology Associates of the Tri-Cities Cosmetic Centers provide physician supervised skin care services including a wide range of chemical peels that can be customized for your individual needs. Our Cosmetic Centers use Glytone Professional by Enerpeel® products to ensure maximum benefit for our patients. Some of the peels available are mandelic, glycolic, salicylic, TCA, pyruvic, and lactic acid. We also have specialized peels from SkinCeuticals® and we have the Obagi® Blue Peel Radiance.
---
To get more personalized information about chemical peels, schedule a complimentary consultation with us at any of our three Cosmetic Centers. Call (423) 246-4961 or (800) 445-7274 option 15 for Kingsport, (423) 764-7131 option 6 for Bristol, or (423) 928-9014 option 3 for the Johnson City office.